This easy DIY sleep mask is the perfect beginner's project. It requires minimal sewing and no cutting. How much easier can it get?
Whether you're making this sleep mask for yourself, your mom, your daughter or a friend, you're going to love its simplicity. Not to mention how adorable it is!
It also makes a great gift for birthdays, slumber parties, just because and Mother's Day. I mean, what mom wouldn't love a sleep mask for those rare afternoon naps?
I love that this sleep mask can be made in a variety of colors and it's one size fits all.
This post contains affiliate links, which help compensate me to continue bringing you great recipes, projects, and tips at no extra cost to you.
It never occurred to me before how valuable a sleep mask could be. Well, I found out last year on a trip to visit our daughter in Italy.
Our seats happened to be right by the bathrooms, which is pretty handy when you need them, but not so much when you're trying to sleep.
Those lights were pretty bright and shined right in my face. Long story short, I ended up paying way too much for an ugly airport sleep mask when I could have easily made a cute one for myself.
Sleep Mask Supplies
Sleep Mask design
Cotton Fabric – I used a grey 100% cotton remnant I found at my local fabric store
Everyday Iron-on in black – Perfect for anything that might ever need washing; it lasts for tons of washes!
Washable Fabric Pen from Cricut
Rotary and fine point blades – included with Cricut Maker
Cricut StandardGrip Mat
1/4″ Elastic – color coordinated with the fabric – I used 12″ but you may need to use more/less
Color-coordinating thread
Sewing machine
Iron or EasyPress 2 6×7
Towel or EasyPress 2 8×10 Mat
Sleep Mask Instructions
Cutting
Wash and dry your fabric – no fabric softener, as this will cause your vinyl not to adhere properly
Cut your fabric into a 12×12″ square so that it fits onto your 12×12 fabric mat
Place fabric on fabric mat, wrong side up, using the brayer to make sure it's smooth
Place a 12×12 piece of Everyday Iron-on onto the standard grip mat, shiny side down
Open my Sleep Mask design in Design Space
Load slot A on your Cricut Maker with the fabric pen and slot B with the rotary blade
Select your fabric (I selected medium cotton) and load the fabric mat into the Maker
Follow the prompts to draw the sew lines and cut the fabric
Here's the tricky part – You will need to cancel the rest of the cut
Select "make" in the project once again. Be sure to select "mirror" the vinyl
Set your material to iron-on and follow the prompts
Assembly
Once you have all of your pieces cut, you are ready to sew
Place your fabric pieces right side together and use a few pins to hold it into place
Be sure to leave openings on either side of the mask so that you will be able to turn the mask right side out and attach the elastic
Using an iron or the EasyPress2, press the mask so the edges are smooth
Weed your vinyl
Set your EasyPress2 at 315º (or iron at 330º)
Press fabric for 5 seconds
Position vinyl eyes on the mask
Press for 30 seconds, flip over and press back for 15 seconds
Warm peel protective covering
TIP: If the vinyl is not completely adhered, repeat process
Congratulations! You now have a fun DIY sleep mask that's perfect for gift-giving or keeping for yourself!
Sleep Mask Alternate Instructions:
No Maker? No problem!
Instead of cutting material, cut a pattern out of heavy cardstock and use it to cut your fabric.
Pin sleep mask pieces right sides together and sew using a 1/4 – inch allowance
Finish project following the rest of the instructions above.
No Cricut? No problem! Enter to win a pair of the Cricut ExploreAir 2! One for you and one for mom!
Are you ready to see more Cricut projects like my sleep mask? They are all perfect for Mother's Day!
Be sure to come back each day this weel as more projects are added!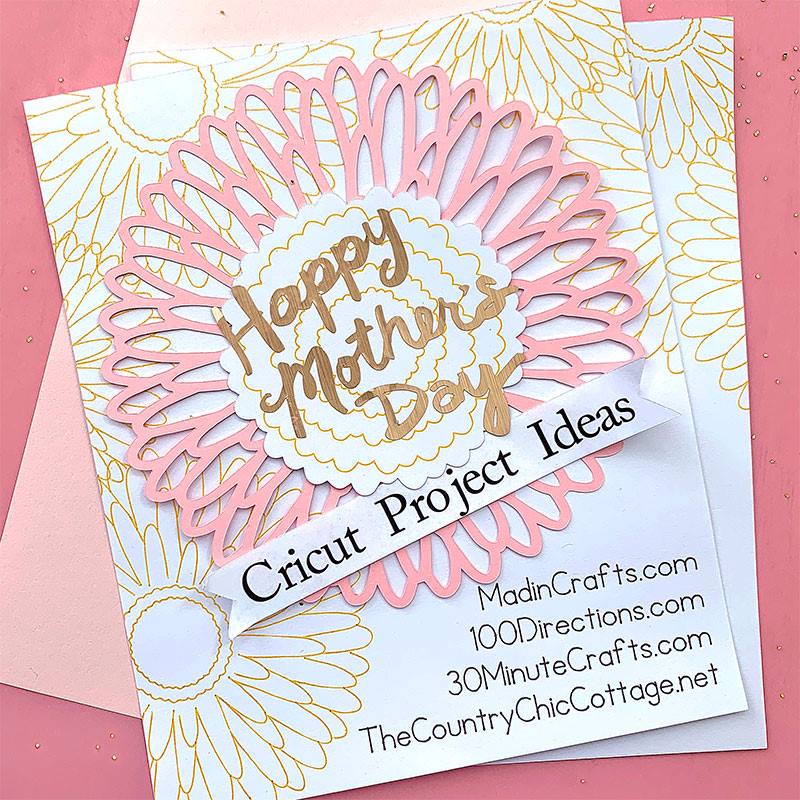 Fun Giveaway!